"After hearing this fine pianist perform with Wycliffe Gordon, it was clear to us that he wouldn't be a sideman for long. An improviser and composer with his own distinct voice, NYC native Oscar Perez has expertly combined the traditions of his Cuban heritage with straight-ahead jazz."
- Sheila Anderson, Author/Announcer, WBGO 88.3 FM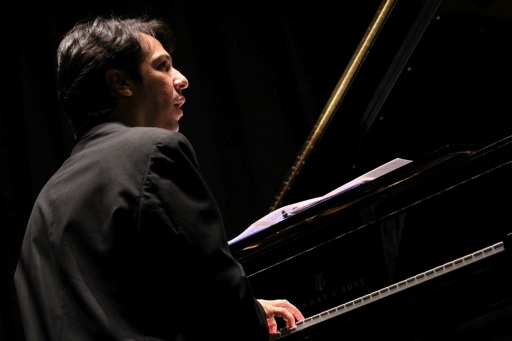 Ever since he was seven years old, Oscar Perez has been expressing himself on a piano. Being raised on his father's Cuban folk music, the piano lessons and playing in the church band was just a given. A young Oscar made the commitment to make music his life before even getting to ninth grade. As a native of the borough of Queens in New York City, he was exposed to many kinds of music. This was enhanced by his enrollment to the "FAME-d" LaGuardia High School for the Performing Arts. But it would turn out to be jazz that would take him on his musical and personal journey.
 
His training has been as diverse as his musical tastes. During his high school years, he studied with two very prominent classical pianists, Robert Harris (Juilliard Faculty) and Edgar Roberts (New York University Faculty). He later matriculated at the highly respected Jazz Performance Bachelor's program at the University of North Florida. Under the American Music Scholarship, he studied with jazz pianists Harry Pickens and Kevin Bales.  It was here that he started to compose for small group and big band.
 
His hunger to revisit the beauty and energy of Latin music sent him off to the New England Conservatory in Boston, MA to study with Danilo Perez. After many weekend gigs in New York City, he saw his formal education come full circle when he finished his Master's Degree at the Aaron Copland School of Music at Queens College in New York under the guidance of Sir Roland Hanna. Here his love of jazz was married with the piano literature of the classical composers. Also, during this time, he continued studying composition and arranging with Phillip Michael Mossman, who gave him many writing and arranging opportunities.
 
His early twenties saw him sharing the stage with jazz legends Bunky Green, George Russell, Curtis Fuller and George Garzone. Since moving back to New York, he has spent recent years traveling and playing in the musical groups of trombonist Wycliffe Gordon, bassist Christian McBride, trumpeter Eddie Allen, saxophonist Mike Lee, trombonist Steve Turre, guitarist Dave Stryker, vocalists Melissa Walker and Charenee Wade along with saxophonist Adrian Cunninham with whom he has a recording entitled "Professor Cunningham and his Old School".
 
In addition to employment as a jazz pianist, he toured with vocalist Phoebe Snow performing in venues such as The Theatre at Madison Square Garden and Webster Hall. Television appearances include a taping of The Rosanne Show with special guest Michael McDonald. He has also toured the country with singer/songwriter Coby Brown and appears on the group's debut CD entitled "Homesick". Recently, he has been appointed music director for St Edward's Church in Harlem, N.Y. His longstanding commitment to church music has been embodied in the gospel music he explores as the accompanist for the Nightingale/Bamford Gospel Choir.
 
His debut CD entitled NUEVO COMIENZO employs an instrumental quintet of extraordinary New York based artists. It features guest artists Wycliffe Gordon and guitarist Peter Bernstein. The sound draws from Latin and jazz music to explore innovative arrangements.
 

Perez shows his ample skill on this first album, incorporating the stylistic elements of Tyner, Hancock and Chucho Valdes. …It's just a matter of time before his name enters the jazz public's consciousness."
-Matt Merewitz, All About Jazz


Latest travels have included many cities along the eastern seaboard. Great Midwestern U.S. cities such as Chicago, Iowa City and Minneapolis have also been part of his itinerary.  Foreign tours include Colombia, South America; Costa Rica; the AgraJazz Festival on the Azores Islands of Portugal and a recent Jazz Cruise to the Bahamas and the Dominic Republic. He spent a month leading a quintet throughout Russia including Moscow and most of Siberia.
 
His close association with the Kupferberg Center at Queens College, the Juilliard School, Jazz Connections Camp at Montclair St. University, Carnegie Hall, the New York Pops, JazzHouse Kids and Jazz at Lincoln Center has provided him many teaching and performance opportunities with some of the world's most innovative musicians such as Antonio Hart, Victor Goines and Christian McBride. He is the recipient of the 2006 ASCAP/IAJE Commission in honor Of Billy Strayhorn. Oscar's group premiered the work at the 2007 International Association of Jazz Education Convention. He is a finalist in the 2014 Jacksonville Jazz Piano Competition. 

His latest project is the result of a New Works Grant by Chamber Music America for his septet aptly entitled Oscar Perez Nuevo Comienzo. Featuring Perez's stellar young band, Afropean Affair focuses on the pianist's original music, which he designed to showcase his group's improvisational prowess and conservatory-honed facility for interpreting extended compositions. Balancing poise and power, the combo features some of the most prodigious young players on the scene, including the commanding saxophonist Stacy Dillard on tenor and soprano, silver-toned Greg Glassman on trumpet and flugelhorn, resourceful percussionist Emiliano Valerio, deeply funky drummer Jerome Jennings and harmonically deft bassist Anthony Perez. 


"This is a musician that has his own voice. Both his compositionsand his improvisations are evidence of this"
  - Dave Miele, Jazz Improv Magazine